Horry County
NEW! 2020 Election Update: Absentee voters can vote in-person at the Elections Office in Conway beginning Monday, Oct 5, weekdays 8am - 5pm (This was previously advertised as beginning Sep 28...overturned by SC Assembly).   Or at 3 Satellite Offices beginning Oct 5, weekdays 8:30am - 4:00pm.  Bring your mask, pen and photo ID. 
North Strand Recreation Center, 120 State Hwy 57, Little River 29566
South Strand Recreation Center, 9650 Scipio Lane, Myrtle Beach 29588
Carolina Forest Public Library, 2250 Carolina Forest Blvd, Myrtle Beach 29579
Caution: There may be lines. Follow social distancing and CDC guidelines. 
Democracy Works
The League of Women Voters is a nonpartisan political organization encouraging informed and active participation in government. We influence public policy through education and advocacy.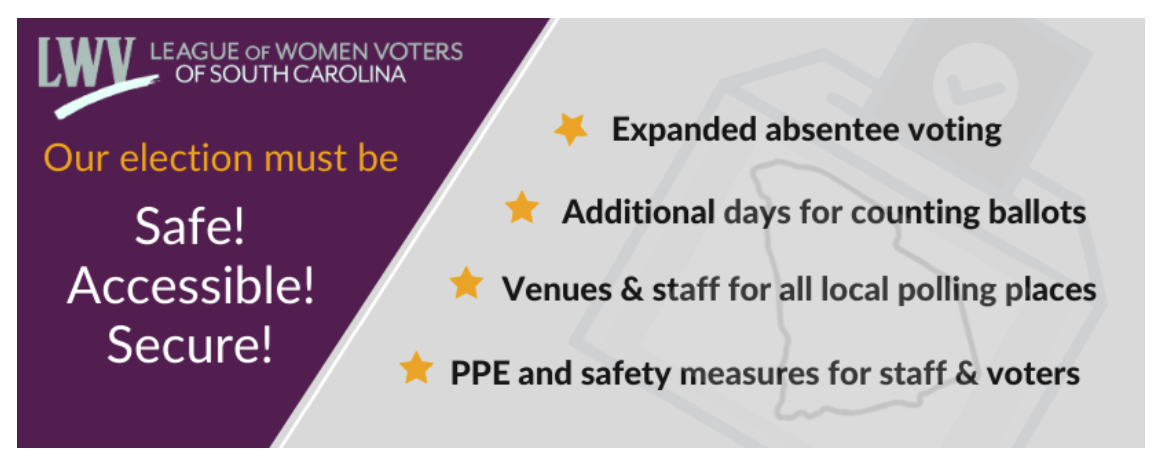 Please make your plan to vote now - whether you choose voting absentee by mail (apply now), or absentee in-person before Election Day, or in-person at your precinct on Election Day. Be sure to follow all measures provided for a safe, secure, and accessible process for our November elections. Learn more here
________________________________________________________________________________________________________________________
S.C. 40th in U.S. Census Completion - Do it NOW
More than half of U.S. households have responded to the 2020 census, and 48.1% have filled it out in South Carolina. As of April 25, 53.2%, or a total of 78.7 million households, have completed the census online, by phone or by mail. The largest share of respondents — 45.3% — have responded online. S.C.'s response rate, which represents 1.2 million households, sits at 40th in the country, tied with Louisiana.
________________________________________________________________________________________________________________________
Other useful sites: