Upcoming Candidate Forums:
Important Voting Information: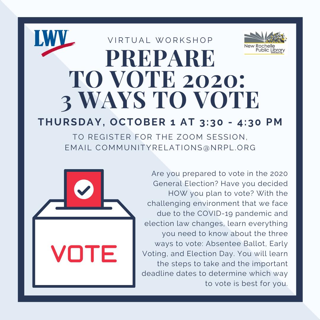 New York State Absentee Ballot Portal HERE: https://absenteeballot.elections.ny.gov/
Governor Signs Additional Absentee Voting Legislation
Late on Friday, the Governor signed the final piece of legislation related to voting by absentee ballot for the November election. S.8370B (Myrie)/A.10830 (Lavine), a bill to allow voters to address issues with their absentee ballots so that their vote can be counted, was finally signed into law. The bill would mandate voters receive notice if their ballot is being challenged because of an issue with their signature or witness declaration. Voters would be alerted by email, phone, and/or mail depending on the availability of personal information, and would have 7 to respond to address the challenge. 
Because of the short timeline for counties to adjust to this new law, and the need to certify the 2020 election results in time for the convening of the electoral college, the Governor has issued a limited Executive Order to reduce the number of days to respond to challenges from 7 to 5. This change will only be in effect for the 2020 election. 
Voters requesting an absentee ballot should be sure to include their current email address and phone number in their request form. The League will be creating additional educational materials on how the cure process will work as more information becomes available.
Early Voting:
The early voting period is October 24 through November 1.
Registered voters voting early may cast their ballots at ANY of the seventeen (17) designated early voting locations. On Election Day, voters must vote at their assigned polling sites.
Early Voting Times:
Saturday, October 24:  12 p.m. – 5 p.m.
Sunday, October 25:  12 p.m. – 5 p.m.
Monday, October 26:  8 a.m. – 4 p.m.
Tuesday, October 27:  12 p.m. – 8 p.m.
Wednesday, October 28:  8 a.m. – 4 p.m.
Thursday, October 29:  12 p.m. – 8 p.m.
Friday, October 30:  8 a.m. – 4 p.m.
Saturday, October 31:  12 p.m. – 5 p.m.
Sunday, November 1:  12 p.m. – 5 p.m.
Early Voting Locations:
Eastchester Public Library, 11 Oakridge Place, Eastchester, NY 10709
Dobbs Ferry Village Hall, 112 Main Street, Dobbs Ferry, NY 10522
Greenburgh Town Hall, 177 Hillside Avenue, White Plains, NY 10607
Veterans Memorial Building, 210 Halstead Avenue, Harrison, NY 10528
Pound Ridge Town House, 179 Westchester Avenue, Pound Ridge, NY 10576
Mamaroneck Town Center, 740 W. Boston Post Road, Mamaroneck, NY 10543
Mt. Kisco Memorial Complex at Leonard Park, 1 Wallace Drive, Mt. Kisco, NY 10549
Mt. Pleasant Community Center, 125 Lozza Drive, Valhalla, NY 10595
Mt. Vernon City Hall, 1 Roosevelt Square, Mt. Vernon, NY 10550
New Rochelle City Hall Annex, 90 Beaufort Place, New Rochelle, NY 10801
Joseph G. Caputo Community Center, 95 Broadway, Ossining, NY 10562
Peekskill Nutrition Center, Neighborhood Center, 4 Nelson Avenue, Peekskill, NY 10566
Somers Town House, 335 Route 202, Somers, NY 10589
Westchester County Board of Elections, 25 Quarropas Street, White Plains, NY 10601
Grinton I. Will Library, 1500 Central Park Avenue, Yonkers, NY 10710
Riverfront Library, One Larkin Center, Yonkers, NY 10701
Yorktown Cultural Center, 1974 Commerce Street, Yorktown Heights, NY 10598
If you have any other questions, please visit the Westchester County Board of Elections on the web at https://citizenparticipation.westchestergov.com or call (914)995-5700.
An excellent article about the League of Women Voters of New Rochelle from the New Rochelle Public Library
The latest issue of: "News from the League of Women Voters of New Rochelle
Paste your embed code here